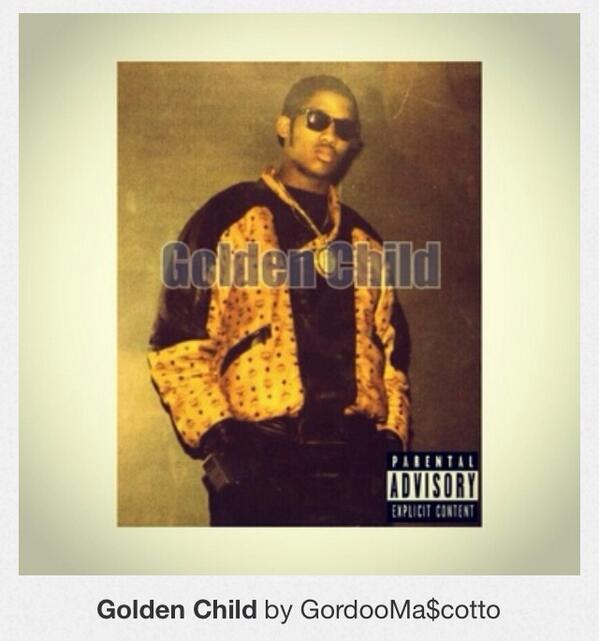 Gordo Ma$cotto officially dropped his first mixtape "Golden Child" though it was not an easy process. Gordo told me he had so much nerve when preparing to release this mixtape. So two failed attempts uploading the mixtape on to Hot New Hip Hop and Dat Piff did not help the rapper's confidence. The mixtape was destined and was reported to drop at 5 p.m. but the two failed attempts set back Gordo's mix tape and he told me he remembered looking at the clock and noticing it was 5:13. He saw his phone was full of phone calls and text messages looking for the link for his mixtape. Gordo was quoted as saying during our interview "I thought GOD did not want me to put out the mixtape". Gordo Ma$cotto for the first time was at a standstill, he felt stuck. But Gordo's DETERMINATION would not let him give up on releasing the mixtape that day! So Gordo called his Uncle/ producer for guidance; He told him to upload the mixtape onto Band Camp. Though unfamiliar with the website Gordo uploaded the mixtape sent out the link sat down and prayed. The mixtape success was RAPID!
Gordo Ma$cotto also known as Chance to his friends and family said the name of his mixtape name and album art was more so a coincidence. Chance often uses the phrase "Golden Child" ( i.e/ instagram name, twitter handle, etc.). He said he looked up what Golden Child meant on the internet and some of the phrases that came up were "to lead", "paving the way for a better world for the future". This is what Chance is trying to do for his family and friends paving a better future for them through his words to bring him success. The cover Art includes Alberto "Alpo" Martinez. He rose to stardom in Harlem through him being the top leader in the cocaine industry and in Chance words "Alpo brought Harlem to a whole other level they had never seen before". This is the intentions of Chance in the rap game for many years to come.
As a rapper some people did not understand my excitement for Chance first official mixtape. But THIS WAS HUGE. Chance has multiple songs on Soundcloud. Most recently Chance dropped a mixtape on Soundcloud called "Egypt". Chance said Egypt was more so known as his "Oh he can spit mixtape".  Egypt was given multiple positive reviews. But Chance could only be satisfied to a certain extent with "soundcloud success". His father who is also one of his biggest supporters commended him for what he was doing. But his father told him it's time to cement your foot down in the rap game and drop your first official mixtape. Chance took his father advice and ran with it!
"Dreams Money Can Buy" was originally on Egypt and "Down For ME" which was also on Soundclound were two fan favorites that Chance had to bring on to Golden Child. They are two songs he said that most people tell him to send in to the radio station. The background on the song "Down For Me" was pretty remarkable. This song came at a time for Chance when he was trying to better himself as a brother, a Christian man, a son, and also a boyfriend. He said "I wrote this song for my beautiful girlfriend Alexia". This song spoke volumes to people because it proved that though Chance A.K.A Gordo Ma$cotto was gaining success but he would never forget the people that got him there and that supported him from the start.
Chance Gordon doesn't rap for just the fun he gets from it. He raps because this is his PASSION. Chance said it best in his song "More than Music"; "This is more than music I feel it deep, I can't sleep".
Gordo Ma$cotto's name is going to be in lights one day! Because he will be paving the way for more people to travel the golden path and be successful in anything they want to do! The question is… Are you going to become a golden Child?
-Cameron Carter